Aluminum Fence Installation in Ocala Florida
Aluminum Fencing Offers Elegance and Durability
Picking out the right type of fence for your property can feel overwhelming, to say the least. There are many options out there and it can seem that you're not sure what is the best fit. Instead of trying to do it on your own, consider working with the professionals here at Fence Pro of Mid Florida. For over 17 years our family-owned and operated company has been providing professional fence installation for residential clients around the North Florida community. We love working directly with homeowners to make sure they get exactly what they want.
One of the options we provide as a fencing contractor is our aluminum fencing. This provides a great, durable option for your fencing needs whether you want to keep the pets in your yard, protect the family while they play, or simply keep out those who would do your property harm.
When you're looking for a highly durable type of fencing that also looks beautiful with any landscaping, then aluminum is where it's at.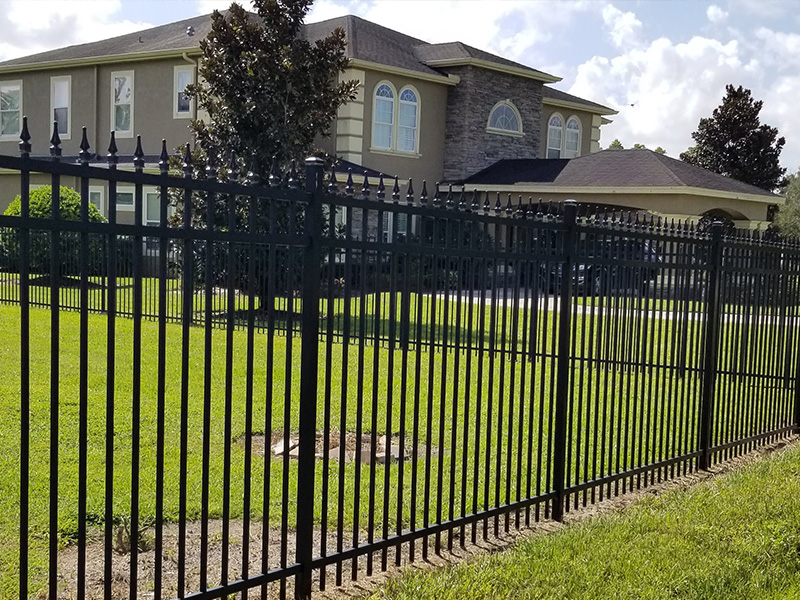 Benefits of Aluminum Fencing
Aluminum can go in a variety of locations and designs to help you achieve more property value and curb appeal when you're in the market.
Some of the benefits that you'll achieve with this type of installation include:
Stand Firm – You can count on this type of fence to stand firm in the face of North Florida weather. Because this is one of the sturdiest products on the market, it can withstand a lot of the elements that other fencing materials simply can't. The powder-coating that is on the material helps it to withstand even the harshest elements.
Low Maintenance – If you're looking for a fencing material that will look good with little work from you, this is it. The basic maintenance you'll need to do is a cleaning every so often. With the protective coating that is on the fence, it typically takes simple spraying off of the dirt and grime as it won't stick.
Range of Styles – This type of fencing comes in a variety of styles and colors to help you get the right look for all of your fencing needs. Pick a powder coating color that matches your décor already in place.
Inexpensive Addition of Value – Many homeowners choose this type of fencing for its cost-effectiveness and for adding property value at the same time.
Secure – Unlike a chain link fence, this type of fencing cannot be easily cut. This adds an extra layer of security to the home.
Process of Installation
The process of fence installation near me starts with a consultation with the owner of the company. Jimmy comes out and measures and evaluates the entire property line. We discuss your goals and material options you prefer, we make suggestions of the best option, and we provide you with a full estimate.  We will also go over the guarantee and warranty you have in place once the installation is completed. You'll know everything there is to know before any work is started.
Once we've set up the installation time, we begin work on the yard. Each technician arrives professionally dressed and ready for the day. By using trays down, we collect any dirt that is dug up so you're not left with piles around the yard. We provide the option for you as the client to remove the dirt if you want, or we can do so when the process is done. Our company believes in making sure your property is kept looking pristine throughout the entire installation process.
Once the job is complete, you're going to love the new installation you have. It is going to be just what you ordered, and we provide a 100% satisfaction guarantee.